Summer Reading
Summer reading is held each year usually during the month of June.
1000 Books Before Kindergarten
1,000 Books Before Kindergarten is an ongoing reading program to encourage parents and caregivers to read 1,000 books with their children before they enter school. The program is based on research showing that the more children ages 0-5 hear books read to them, the more prepared they will be to learn to read in kindergarten. Parents sign up for the program at the library and receive reading journals to record how many books they read to their child...or download the app. Prizes are awarded at the 500 and 1000 milestones. Once participants have read 1,000 books before kindergarten, they have successfully completed the program & have a jump-start on school and reading success!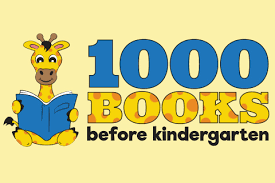 Story time
Currently we don't hold an in-house story time ... if you are interested in attending, please call the library and let them know a day and time you think would work best.